Constructor DJINN-XXX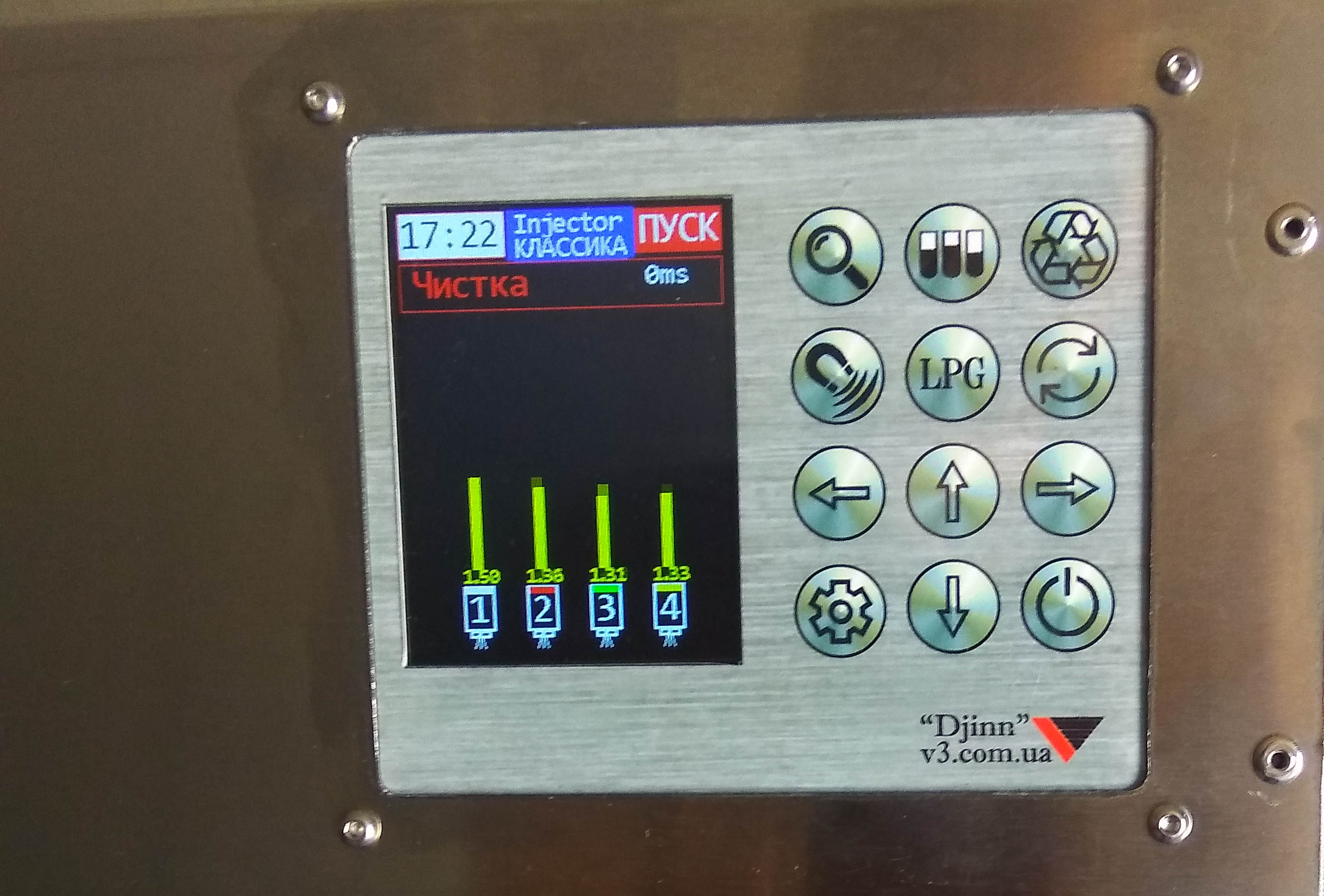 Сonstructor
"Djinn-xxx" is intended for use in cleaning and testing stands of injectors.
Nozzle control channels: 4 or 6.
Outputs for 4 valves (2 of them with PWM), 3 sensors (for example pressure).
Graphical indicator 2.8 ", 240 * 320.
Keyboard touch

Data transfer: WiFi.
USB connector format: s Mini USB 7x3.2mm
Dimensions of the module panel (SHVD): 122h107h43mm
Operating modes:
-"Cleaning". Sub-modes: automatic, manual;
-"Consumption". Sub-regimes: static, dynamic, automatic, flow;
- "Impedance (resistance) of windings";
-"Demagnetization".
"Djinn" - stand with feedback from the nozzle, controlled by the moment of opening the nozzle to prevent blows during closing, the optimal mode is automatically selected, which eliminates damage to the nozzle, increases the cleaning effect, saves operator time.
The "Degaussing" and "Cleaning" mode with magnetic reversal allows you to remove magnetic debris inside the nozzle, which disrupts its normal operation. The cause of a nozzle leak is often caused precisely by the presence of such garbage.

Automatic cleaning mode - maximum cavitation.
The control of the opening degree eliminates the possibility of the needle hitting the nozzle.
Free firmware update of the stand control module.
Model modules "Djinn" to control the stand cleaning injectors.
| | | | | | |
| --- | --- | --- | --- | --- | --- |
| Module | Djinn II | Djinn-x6 | Djinn-FSI | Djinn-CDI | Djinn-PIEZO |
| Number of channels | 8 | 4 / 6 | 6 | 6 | 6 |
| Resistance, Ohm | 0.9 - 20 | 0.9 - 20 | 0.9 - 20 | 0.1 - 20 | 0.1 - 20 |
| Conventional nozzles | + | + | + | + | + |
| LPG nozzles | + | + | + | + | + |
| Nozzles FSI,GDI | + | + | + | + | + |
| Nozzles PIEZO (ПЬЕЗО) | - (+adapter) | - | - | + | + |
| Nozzles СDI | - (+adapter) | - | - | - | + |
| Pulse 30 - 180V | - (+adapter) | - | + | + | + |
| Test plans: VE,VL,TL,LL | - | - | - | + | + |
| WiFi | + | - (+$10) | + | + | + |
| Type of Indicator | graphic 2.8" | graphic 2.8" | graphic 2.8" | graphic 2.8" | graphic 2.8" |
| Signal simulator | + | - | - | - | - |
| Price, $ | от 250 | 170 / 200 | 350 | 400 | 450 |
For more information, you can familiarize yourself with the information about the capabilities of the new DJINN in the documentation (download link at the beginning of the description) by going to the blog or asking the developer a question personally +380507031122 - Viber, WhatsApp; Skype: v3link